Dentist in Trenton, MI
All our professionals at Booker Family Dentistry maintain the highest levels of accreditation and pursue ongoing education to stay abreast of the latest trends in dentistry.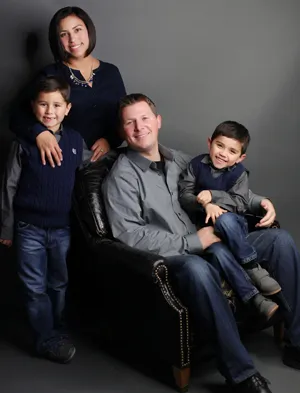 Nicholas Booker, DDS
Trenton, MI Cosmetic Dentist
Booker Family Dentistry
Dr. Nicholas Booker is a general dentist with a skilled background in all areas of oral health care. His goal is to provide a professional environment and the quality of care and individual concern that you may not have found in a dental practice before. We are confident that our services and friendly staff will exceed your expectations and make you feel right at home. Rest assured that any treatment recommended for you would be the same treatment he would recommend to one of his family members.
Dr. Booker was born and raised in the Downriver area where he graduated from Grosse Ile High School. He went on to undergraduate school at the University of Detroit Mercy and continued right into the University of Detroit Mercy Dental School.
He is skillful, personable, and up-to-date on all the latest dental procedures and equipment in the field of dentistry.
In his spare time, Dr. Booker enjoys spending time with his wife Mary and sons, Noah and William. He enjoys playing golf when the Michigan weather allows and is an avid Detroit sports fan.
Office Manager

Mary is our Office Administrator. She handles the day to day administrative duties and record-keeping at our office.  When not at the office Mary enjoys spending time with her husband and two children. Mary also donates many hours helping local schools and serves on the Grosse Ile PAT

Our Courteous and Welcoming Financial Coordinator

Adrienne is our patient care financial coordinator and insurance specialist. She has over 35 years of experience in the dental field. Adrienne prides herself in finding innovative financial and insurance solutions for our valued patients so that they may receive all the care needed to keep their smiles at their best. Adrienne joined our office after having worked for the late Carl E. Misch, DDS, MDS, Ph.D., who was one of the top implantologists in the world. Outside of the office, she is an avid photographer and animal lover. She volunteers numerous hours weekly at the Wyandotte Animal Shelter and fosters animals for Shelter to Home Rescue. Her daughter Brianna shares her love for animals and is pursuing a career as a veterinary technician.

Our Courteous and Welcoming Front Desk/Reception

Shawn can do it all here at the office. We first met her as a patient in our dental chair and thought she might work out well with our team. Well, we were right. She can do it all from assisting to handling all the front desk duties. She's one of those ladies that can balance it all: wife, mom of three active kids, volunteering, and career. We never see her without that happy smile which is totally infectious

Our Courteous and Welcoming Front Desk/Reception

Tracy is one of our amazing patient care coordinators. Tracy enjoys building relationships with patients while taking them through all aspects of their treatment. Tracy is a Younique Cosmetics provider. If you have any questions about their products ask her for a card so she can contact you after work hours. When not at work, Tracy is an avid reader and likes to spend time with her husband Rob and their two dogs.

Our Friendly and Caring Hygienist

Danielle has over 30 years of experience in the dental field. She prides herself on educating her patient's on how to avoid gum problems and is up to date on the most advanced treatments for gum and periodontal disease.  Danielle is a downriver native and has lived with her husband and four children in the Woodhaven area for more than 15 years.  When not spending time attending to the needs of her patients, Danielle loves spending time with her family and enjoying the outdoors.

Our Friendly and Caring Hygienist

Erica grew up in the Downriver area and couldn't be happier to work in her hometown. Comfort is key when you are under Erica's care. Her cleanings are gentle, thorough, and provide a high-quality care experience that you are sure to love and expect at future appointments. When not at work Erica enjoys spending time with her husband and her two children. Her boys are in local hockey programs. She is the definition of a 'Hockey Mom.' Erica also enjoys working out at a local gym and strives for peak physical health.

Our Friendly and Caring Hygienist

Lindsey is one of our amazing hygienists. She is committed to educating patients on the importance of good oral hygiene. She goes above and beyond to make sure you are comfortable while under her care. Lindsey grew up downriver and attended hygiene school at Ferris Sate University. When not at work Lindsey enjoys fitness and is an avid traveler.

Our Friendly and Caring Hygienist

Lisa has been a hygienist for over 10 years. She truly enjoys her profession and strives to keep up to date on all the new techniques and studies associated with treating periodontal and gum disease. Lisa ensures our patients always feel 100% informed and comfortable during their visit. Our patients love her personality and gentle touch during her thorough hygiene appointments. She is passionate about the outdoors. When not at work Lisa spends time with her husband and two children. Together they donate multiple hours spending time with the local Boy and Girl Scout troops. If you bring up camping, be prepared to have a thorough and fun conversation about the outdoors.

Our Friendly and Caring Hygienist

Shannon has over 20 years of experience in the dental field. Shannon enjoys working as a hygienist because she always wanted to help people and create beautiful, healthy smiles. Her work allows her to achieve her personal goals and work with a team that is committed to advancing their skills and knowledge in treating the overall body health. She strives to hear her patients say, "I have never had such a thorough cleaning before." When not at the office Shannon enjoys spending time with her husband and three children. She is an avid boater during the Summer and enjoys walking.

Our Amazing Dental Assistants

Cierra makes up the second half of our amazing assistant team. Her gentle touch and upbeat personality make every appointment a breeze. She is always smiling and full of positive energy. She likes Dentistry so much that she plans to continue her education to obtain her dental hygiene degree. In her spare time, Cierra spends time with her daughter being a super mom.